Hello and welcome back to our recap of our trip to Europe this summer! You can check out my first post featuring our time in London here.
We had to wake up at 4am to get on a train to get to the Luton airport. We decided to take the short flight to Amsterdam instead of taking trains to get there.
The Luton airport is the smaller airport in London, which was nice, however we weren't exactly clear on where we should go. We checked our bags because we heard they are pretty strict about the liquids. Checking in was fine but they told us to go to  get our passport stamped and we didn't have enough time to ask "uh where do we do that?"
Anyways, we figured it out and then went through security.
I don't know if all of European airports are set up this way or if it's just in the UK but at both the Luton and Heathrow airport they have a holding area where you wait for your gate to be announced. Your gate isn't announced until 30 minutes to an hour before your flight leaves, so you don't wait by the gate like you do in American airports. Interesting for sure!
We arrived in Amsterdam at 10am and immediately went to our Airbnb to drop off our bags.
Rows and rows of bikes greeted us right outside of the train station.
Once we arrived to our Airbnb around 11:30 and our host gave us a little tour and went over a few things about being out in Amsterdam.
As we were walking to our place, I spotted out a cafe that had outdoor seating and I said to Ryan "I want to go there for lunch!" so we headed back out to a place called Teun to get coffee and lunch.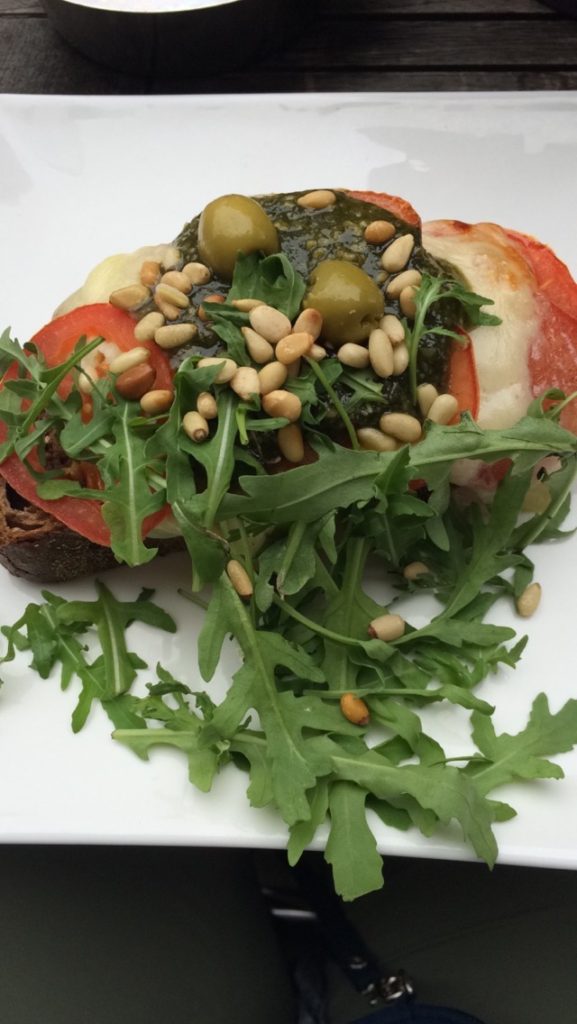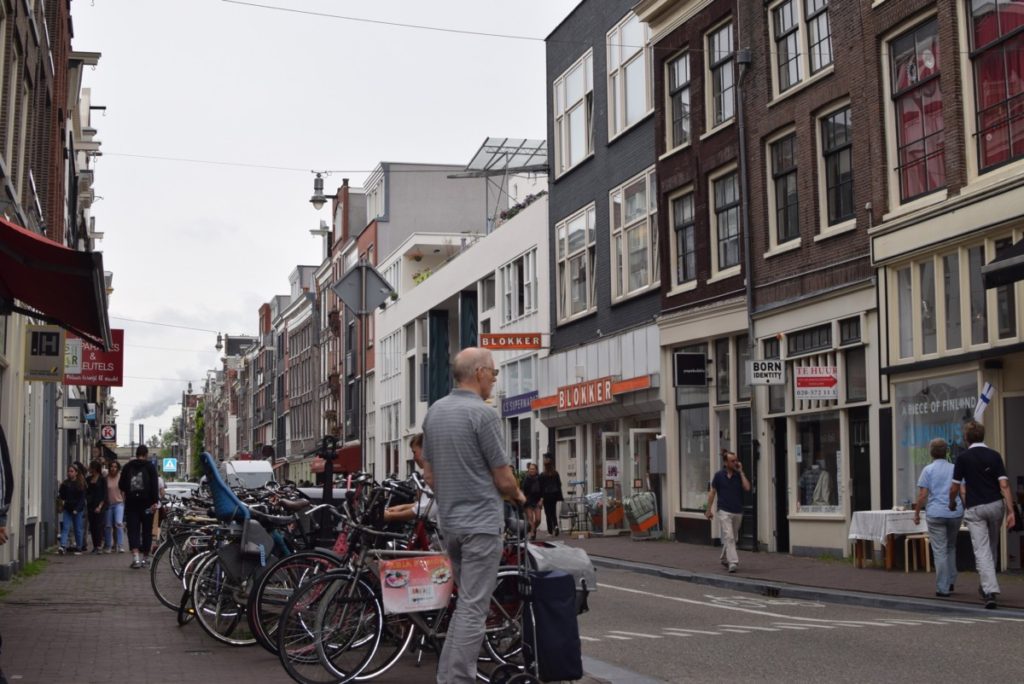 After getting properly fueled with sandwiches and coffee, we walked around for a while. One thing I loved about Amsterdam was that it was small enough for us to walk from one end of town to the other, but still quite large. They have a population of 700,000 people and 600,000 bikes! 
We got chocolates at a little shop and then sat and people watched at the National Monument.
We thought we had walked through the popular Red Light district, but we didn't see much….of what you usually see. If you don't already know, Amsterdam is primarily known for two things: Marijuana and legalized prostitution.
Neither of those things we are into obviously, but there is so much more to the city that you don't even really notice those things.
They have what are called "coffeeshops" that are definitely…not coffeeshops, so be warned before you go. Coffeeshops is where you can buy and smoke marijuana. There are plenty of coffeeshops but besides just walking past and smelling the smoke, it wasn't really an issue. We never saw anyone or anything super crazy and it's pretty contained.
The Red Light district is where many of the prostitution places are located. We thought at this time we were walking through it but we definitely weren't. More on that later.
We eventually made our way to our cheese and wine tasting we had scheduled. Wine and cheese? Yes please.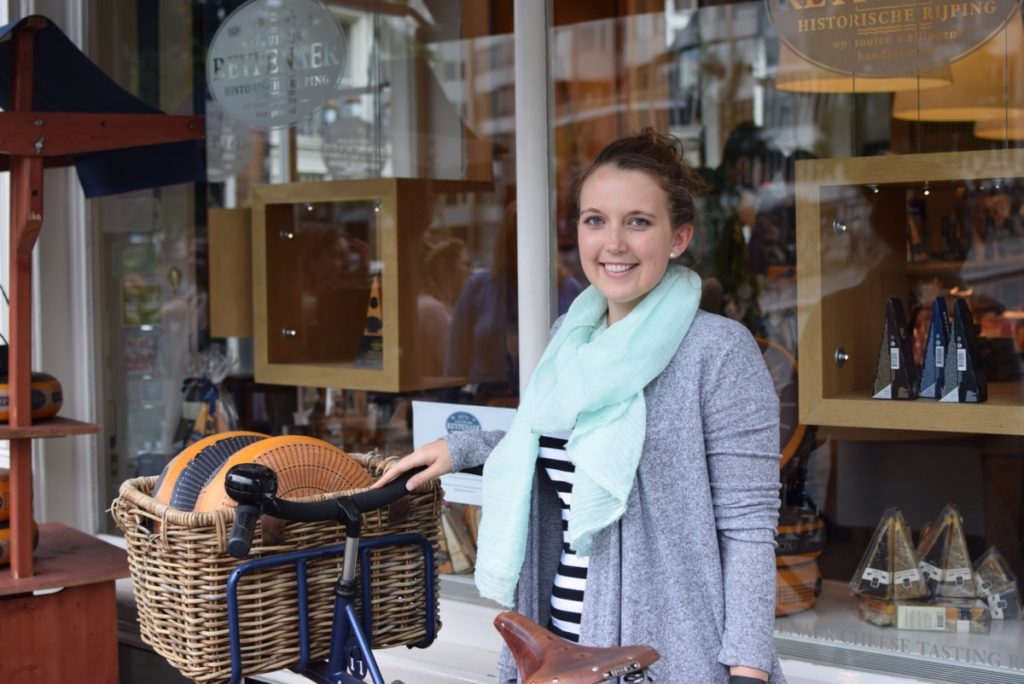 There were about 20 of us doing the wine tasting, I think one group was a bachelor party. English is commonly spoken in Amsterdam, so the tasting was done all in English. It included a cheesy (ha) video and all. 
After our tasting, we headed to In de Wildemaan, which was a highly recommended bar/pub. We wanted to order some beers to sip on, but through our mistake and a language barrier, we got this strange tasting carbonated beer-ish drink. Yes, that's the technical term.
Actually, we tried ordering two of these, not realizing they were the size of wine bottles. Thankfully the bartender suggested us to start with one 🙂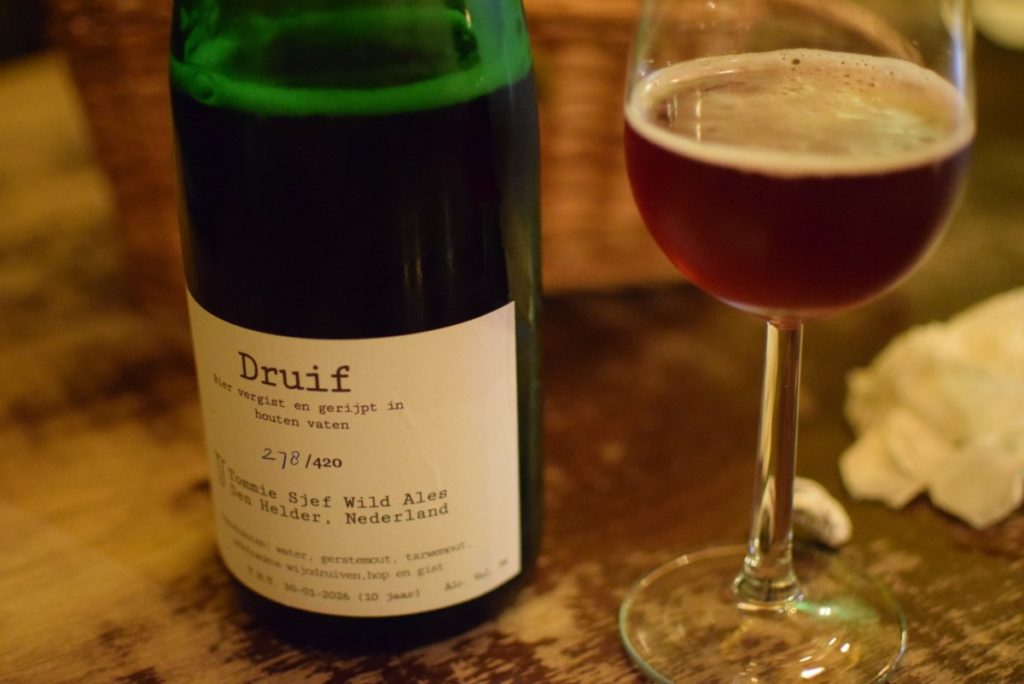 Unfortunately, we couldn't finish it. We were sitting in the back of the bar and it was really hot and stuff and we just couldn't choke it down. Lesson learned!
Then we were off to find dinner. Ryan and I love Thai food so we decided to try and find a Thai place. It had been kind of colder and rainy, so Thai sounded good.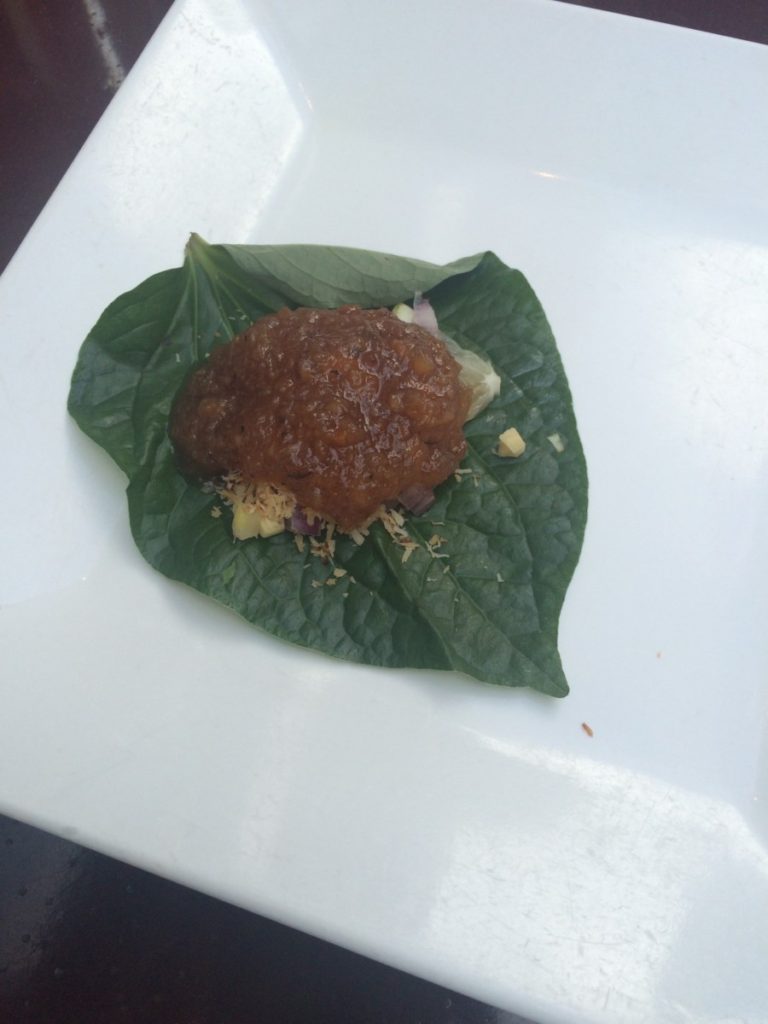 The place we went to was called Kinnaree and it did not disappoint! They gave us these delicious little wraps before our entrees were served that were really fresh and ginger-y tasting. 
We got the Chicken Massaman and the Beef Panang curry. Those are our two go-tos and hardly ever disappoint us. They were so good!
June 26—Amsterdam
Our first activity of the day was a country side bike tour. I apparently way underestimated the time it would take us to walk there so we had to walk quite quickly to make it on time.
We grabbed crossiants at a random place on the way and omg it ended up being one of the most delicious croissants we had during our entire trip!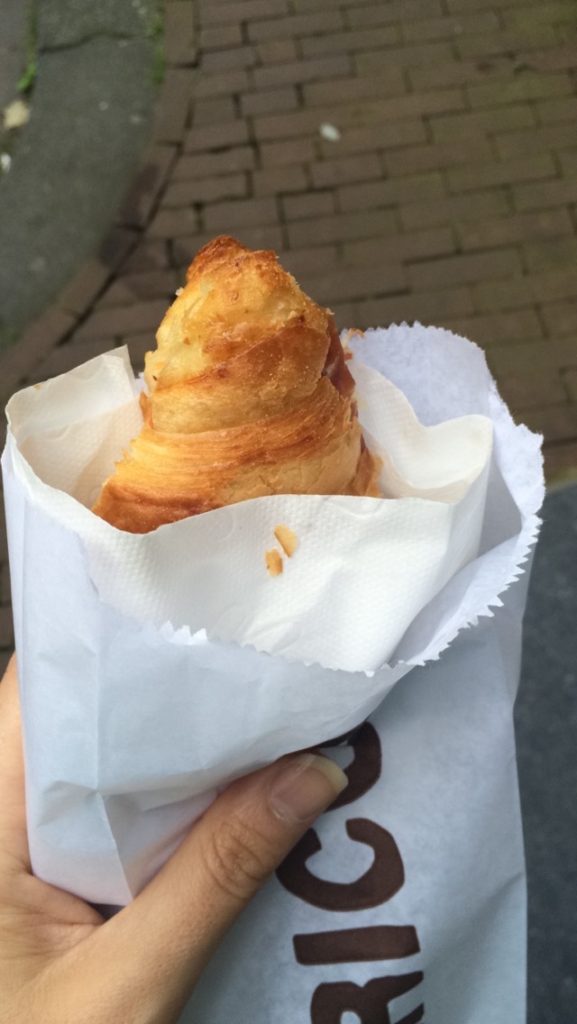 It was filled with prosciutto and a little cheese and it was so buttery and flaky. The perfect crossiant in my opinion. Can we make crossiants a thing here in the U.S.?
We arrived on time and got set up with our bikes. They gave us a little talk before heading out about biking in Amsterdam. 
Biking is some serious stuff there. You have to be careful to watch out for bikers more than you ever would for cars. Natives to Amsterdam can get quite angry if you are too slow or cut in front of them on your bike.
Our bike tour was about 4 hours. We rode a little in the city and then went out to the countryside.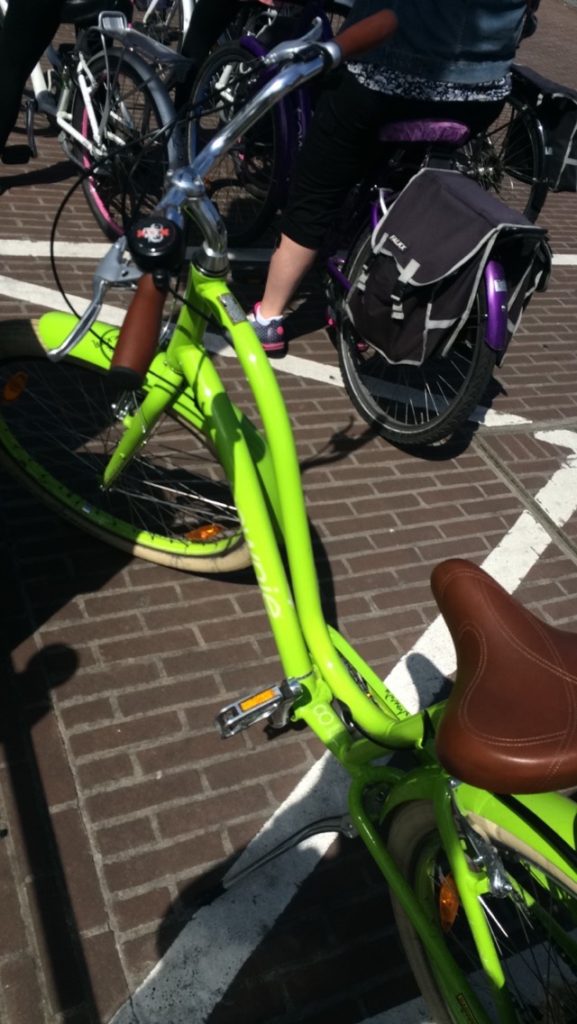 We had a few other groups on the tour with us. A South African couple, two girls from Singapore, and then a mom and her three children who were 13-14 years old from New Jersey.
The family from New Jersey was…interesting. When we all introduced ourselves to the group, she said they were from "Jersey." Not the U.S., United States, the States…or even NEW Jersey. Just Jersey. Ummmm not everyone in the world knows what Jersey is but okay.
Then later on in the tour, we stopped at a little cheese shop to do a cheese tasting. Apparently one of the daughters was vegan (she made it very well known) and refused to go inside. Which it was a very small cottage type house and it wasn't like the entire thing was focused on the cheese. There was also a part where we saw how the wooden shoes were made and their was a gift store too.
Ryan and I ended up purchasing some of the smoked cheese because it was some of the best I've ever had. We still haven't opened it yet 😁.
We made other random stops along the way, one including the location where the rowing part of the Olympics took place in 1928!
We also saw some of Picasso's work in Vondelpark!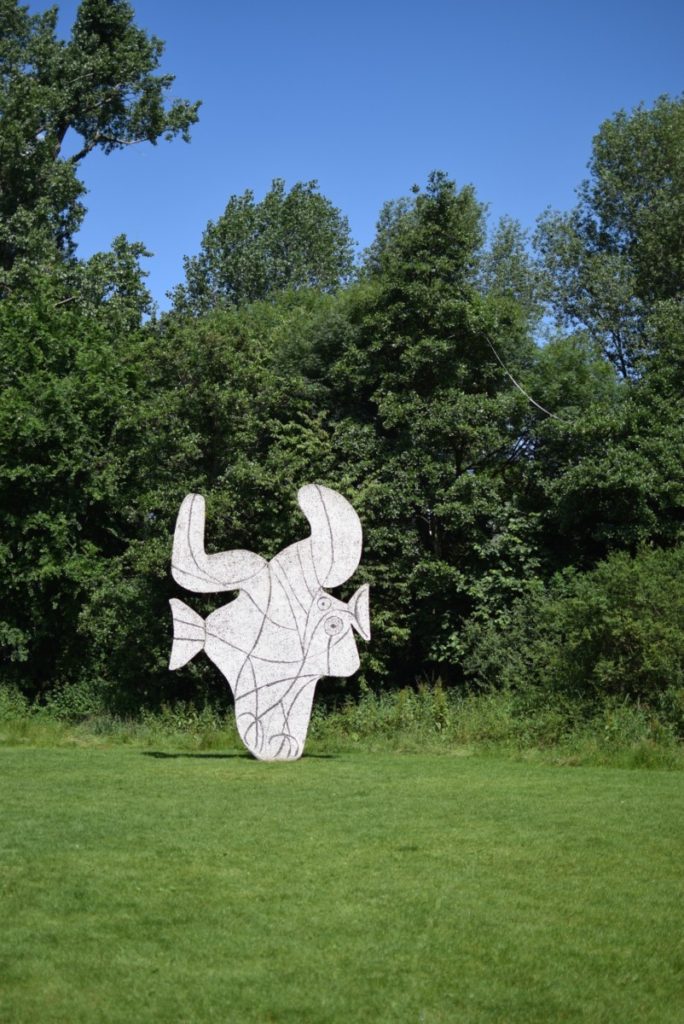 After our tour, we walked to a cafe called Bakers and Roasters to enjoy the weather and sit outside to enjoy coffee. Yes, we drank a ton of coffee on this trip.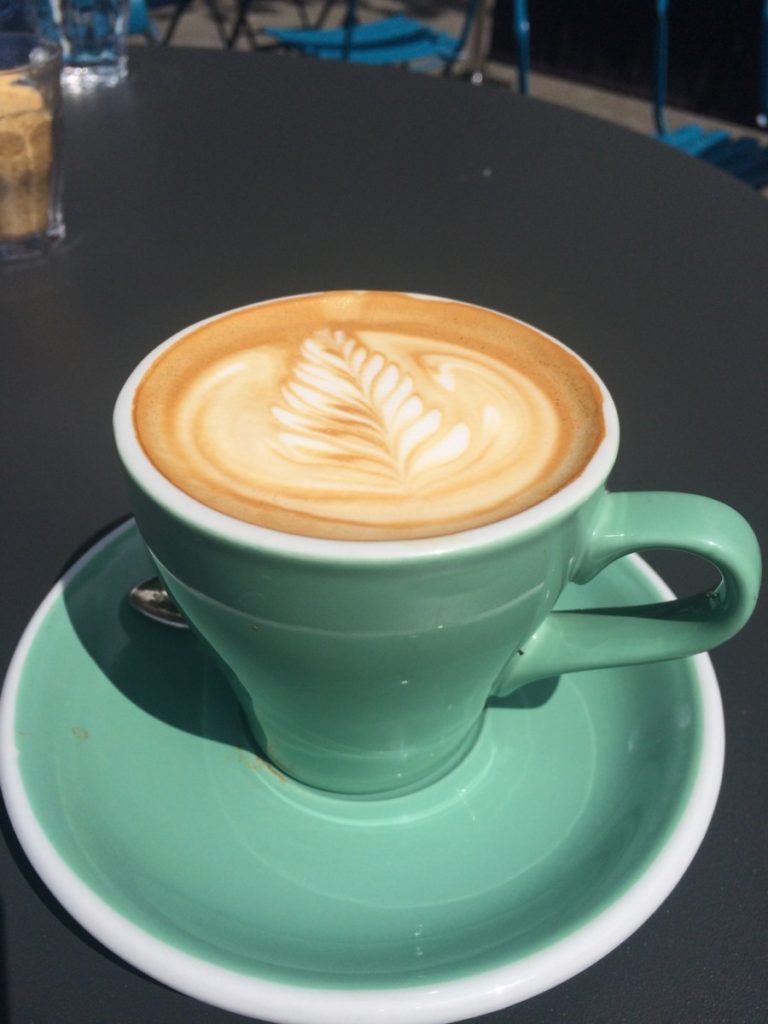 We overheard a girl say she was from Texas so we chatted with her a bit. She actually just moved to Amsterdam from Dubai for work. Still, such a small world to sit next to someone from the same state as you!
After we were rejuvenated with coffee, we walked around the city more. We made our way to the proper Red Light district and we realized we definitely were not in the right spot area. You kind of know when you are there, if you know what I mean.
We never felt unsafe or anything, though we did make it a point to walk around during the day. Not sure what it looks like at night though.
Then we were hungry, so what does one do when you're hungry and on vacation? You get a waffle!
It was nice to just sit by the water, talk, and enjoy our chocolate covered waffle.
Up next was a gin tasting at Wynand Fockink.
There was a bit of confusion with our gin tasting. It was a very small bar area and it seemed like people were just walking up and ordering drinks, and not participating in a tour.
Eventually we made our way through the crowd and asked about the tour and tasting. The bartender kind of looked at us funny and then said, "Well this is interesting! Our normal guy who does the tours isn't here so…I guess we'll wing it!"
There was another American couple that was right by us who also had tickets for the tasting so we laughed with each other about how weird and awkward this all was.
They American couple had 4 other people with them, relatives of one of them. We stood around for a while and eventually we had a "tour" which consisted of one room where the gin is distilled.
After that, we did a tasting but they still had to serve drinks at the bar and it was quite crowded. None of us really knew what was going on but either way we had fun getting to know the other group.
I'm not a huge gin fan, but some of the sips we had were good. Several of the drinks were waaaay too strong for me.
The tasting took a lot longer than anticipated so we were starving after. We stopped a random place on the way home and I'll admit it wasn't the best meal we've had. I ended up getting sauteed mushrooms and croquettes and Ryan got wings and fries.
June 27—Amsterdam
By this day, we were starting to feel a little run down. We were going to do a free walking tour they have in Amsterdam but decided to do our own thing and walk around on our own.
We walked to a place down the street from our Airbnb called Bagels and Beans, where we got…you guessed it bagels and coffee.
We had bought some packaged cheese during our bike tour and we started wondering if we were going to be able to take it into Switzerland. Switzerland isn't part of the EU and they can be very particular about what types of food you can bring into other countries so we were like uhhh…what if we need to eat all of this cheese before going into Switzerland?! Thankfully we figured out that we could 🙂
We eventually made our way to our canal tour that came as a part of our wine tasting package. It was rainy so we were kind of dreading it at first, but then realized the boats are covered so we didn't get rained on too much. 
After the tour, we set up shop at an Irish place where we had drinks and lunch. It was nice to just sit and hang out.
When in Amsterdam, you gotta get Heineken!
We gave ourselves our own little walking tour for the day and just was enjoying the sites. We walked by the Anne Frank house to see how long the line was and it was ridiculously long so we decided it wasn't quite worth it. I was disappointed but I didn't want to spend an entire afternoon waiting in line.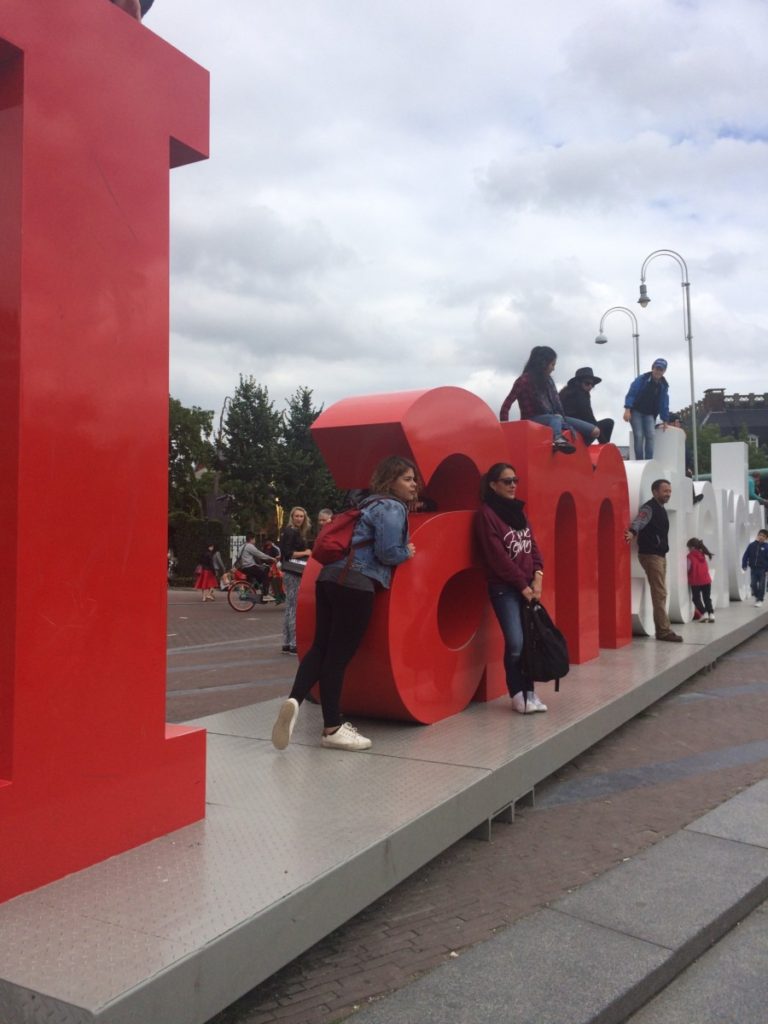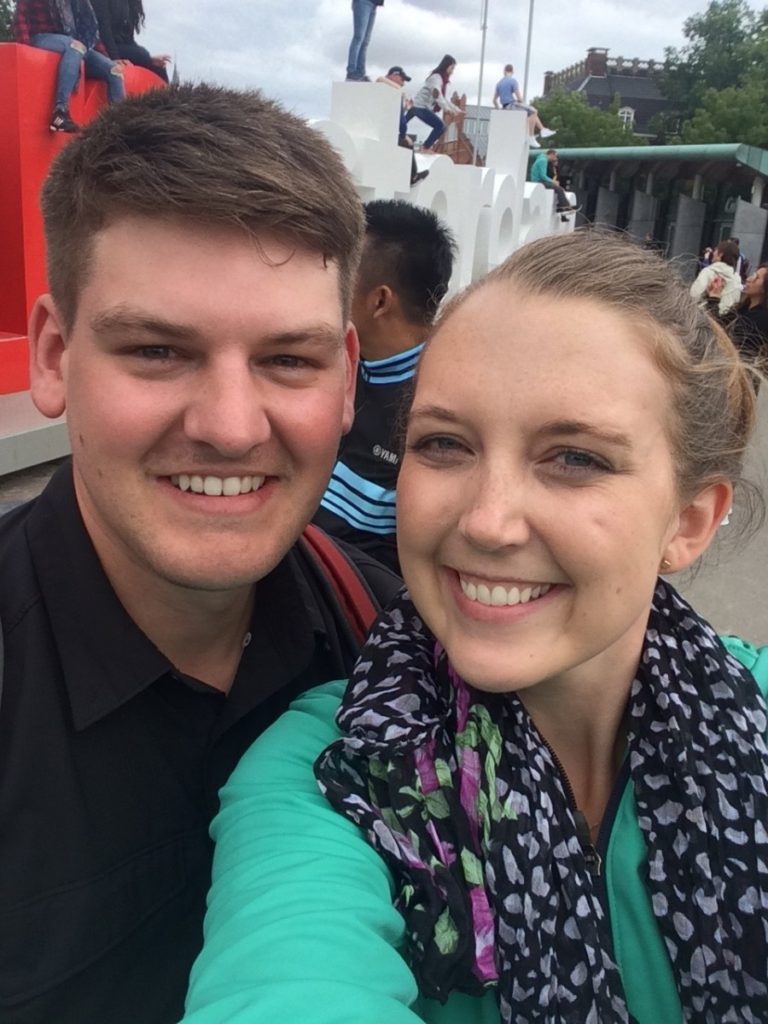 Later in the day we did the Van Gogh Museum tour. I can admit that Ryan and I aren't exactly…art people but felt like the Van Gogh museum could be interesting. We did the shorter guided tour and while the lady  who did the audio was a little odd at times, it was still enjoyable.
We overheard another group debating on whether Van Gogh painted one of the paintings standing up or sitting down. Ryan and I just laughed at that because how is that even something to debate about?!
After the tour, we got snacks and drinks at a place called Cafe de Prins, where we tried bitterballen for the first time. A friend on Facebook said we should try it as it's a popular appetizer people order in Amsterdam.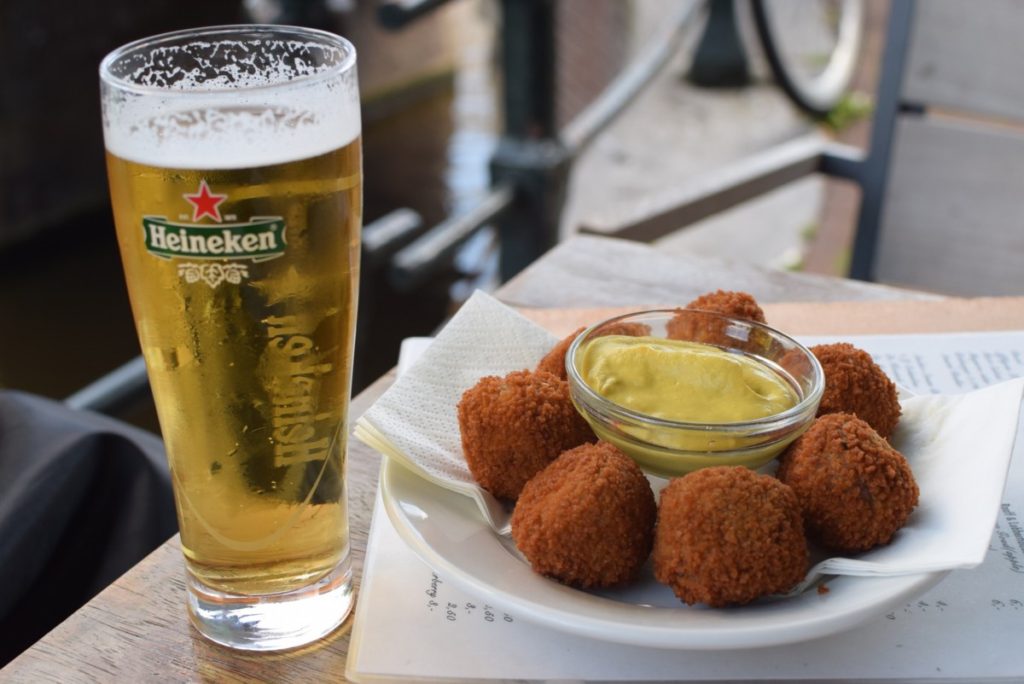 According to Wikipedia, bitterballen are a Dutch meat-based snack, typically containing a mixture of beef or veal, beef broth, butter, flour for thickening, parsley, salt and pepper, resulting in a thick roux
It was kind of like a mashed potato ball with a mustard sauce.
After even more walking, we eventually got hungry for dinner. If you can't already tell by now, one of our favorite ways to experience a city is through food.
We had asked our Airbnb host if she recommended a Thai place because the last place was so good and we wanted more. She suggest Rakang and it ended up being one of our favorite meals of the entire trip. And definitely the best Thai food we've ever had!
They gave us the crunchy pork rind-esqe snacks with a peanut butter sauce to start.
I got the Paneang curry with duck and omg it was the best. I hardly ever order duck but for some reason I just felt like it was going to be a good place to try. Mmmm.
Ryan got the Massaman curry with beef. Also totally amazing.
After our full day out, we were ready to crash so we walked back to the Airbnb and headed to bed early. We had an early morning the following day…off to Berlin!