Hiya! If you're just joining, check out my first two posts about our Europe trip: London and Amsterdam.
Now we're off to Berlin!
June 28– Amsterdam to Berlin
Another travel day, another early morning. We attempted to make most of our travel days early enough so we could still enjoy the city we're arriving at. We woke up at 6:45am to get our things together and arrived at the train station at 8am.
The Amsterdam train station was small enough that we didn't have to spend too much time figuring out where we had to go. We grabbed both breakfast and lunch because we weren't sure what the lunch situation would be like on the train.
Most trains will have a bistro cart on the train, where you can order water, sodas, as well as snacks and sandwiches. Some are more plenished than others so we always tried to get food ahead of time before getting on a train.
After we arrived at the train station though, we overheard the intercom saying that our train didn't have any first class cars, which is where our seats were so we didn't technically have seats.
Note on first class cars vs. second class: Ryan booked all of our trains before our trip. Sometimes, the first class cars were the exact same price as second class, so we bought first class. Often, there's not much difference, except maybe a little more room.
SO with no seats we didn't really know what to do. The intercom speaker told us to find the train manager but how were we supposed to know who was the train manager?!
Our plan was 1) get on the train 2) figure out our seats later.
After getting kicked out of two different sets of seats, we finally found some that weren't reserved. Those seats also ended up being behind a couple who had one son that were very…annoyed with each other. They kept heavily sighing and practically yelling at each other from across seats. It was awkward.
Other than that, the train was great! Haha. It sounds like it was miserable but it really wasn't.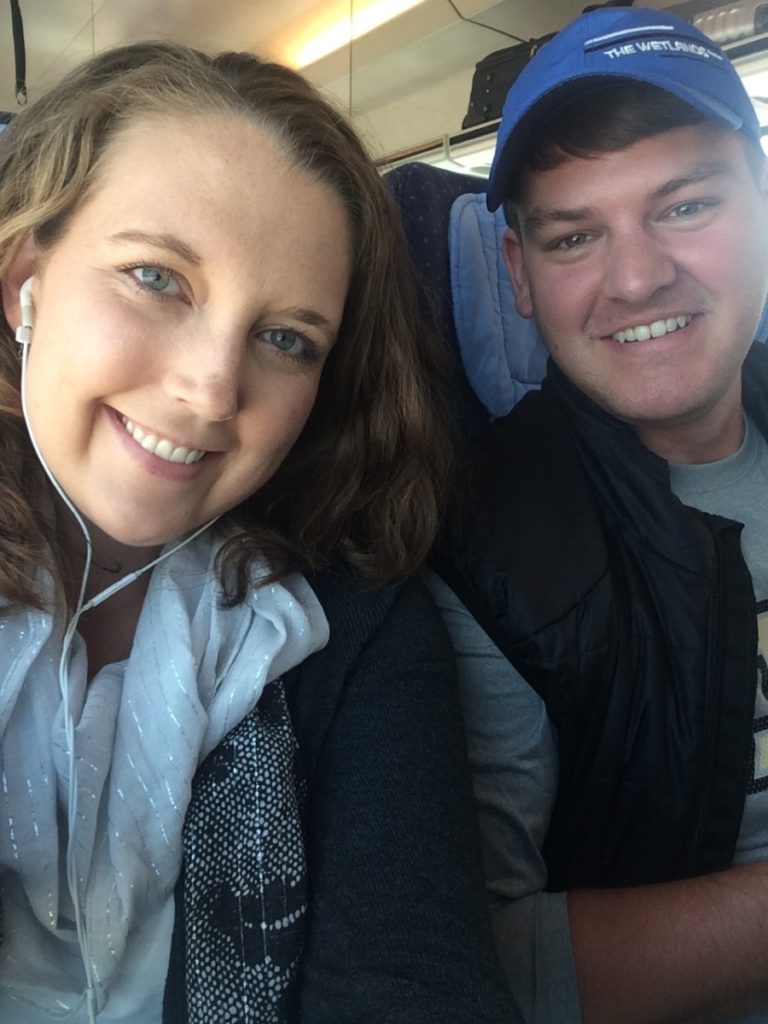 We arrived around 3:30 and met up with our friend Devashish (hi Devashish!), who was one of Ryan's fraternity brothers. I'll admit, it wasn't a random meet up. He found out we were doing a Europe trip when he visited over Thanksgiving and then planned his own trip and we decided to meet up in Berlin.
We made our way to the hotel, a Hampton Inn that was west of Berlin proper, and dropped off our bags.
Ryan and I got to squeeze on a twin bed for the couple of nights…what fun! 🙂
Devashish knew of the oldest restaurant in Berlin, Zur Letzten Instanz, so we decided to go there for dinner and of course, beer.
Ryan and I both got the fried duck and oh.my.gosh I want this meal as my last. It has roasted red cabbage, potatoes, mushrooms and tomatoes. It was AMAZING.
Devashish got the boiled pork knuckle, which is also popular in Germany. It was massive!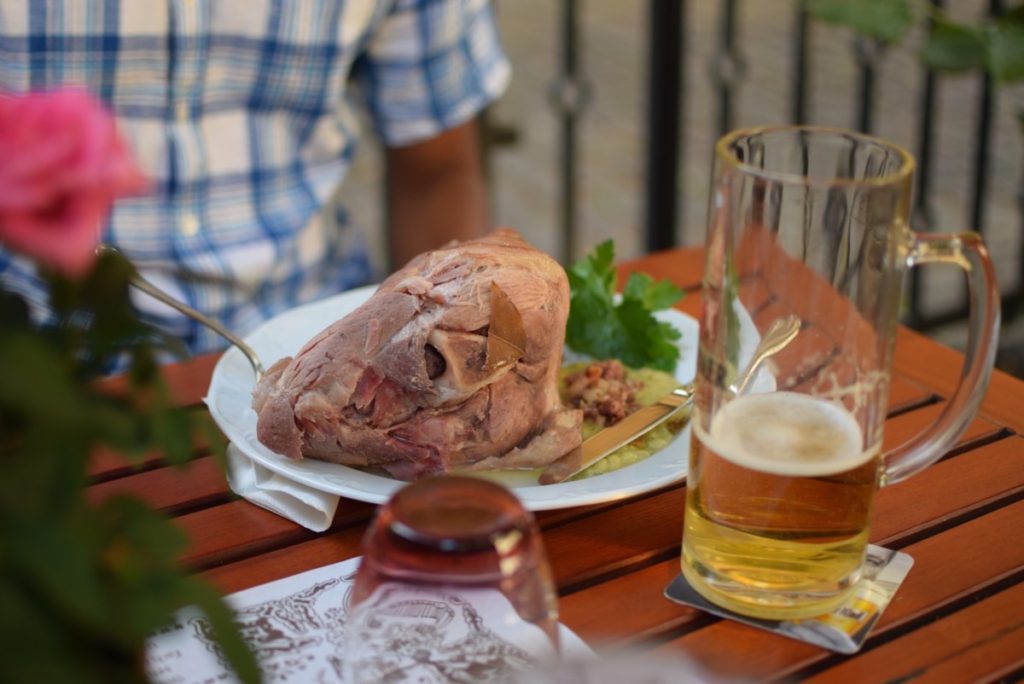 After the most amazing meal ever, we walked to a beer garden that was close to the zoo. Devashish had came from Munich and he was all about the beer gardens and that's basically what you do in Germany.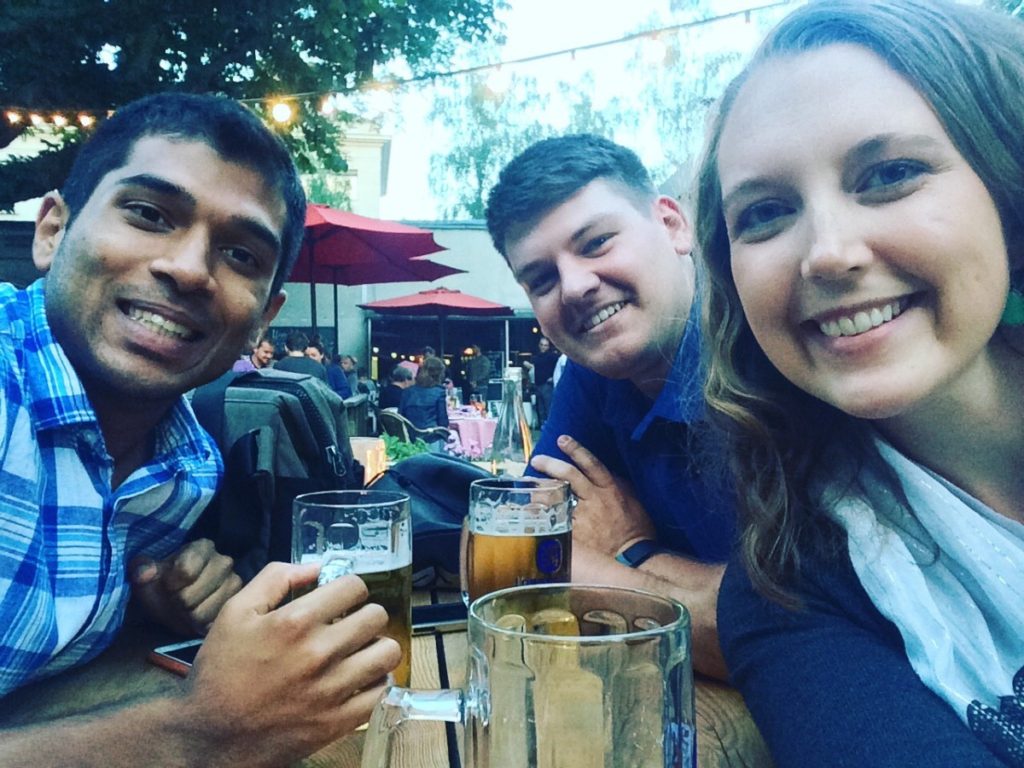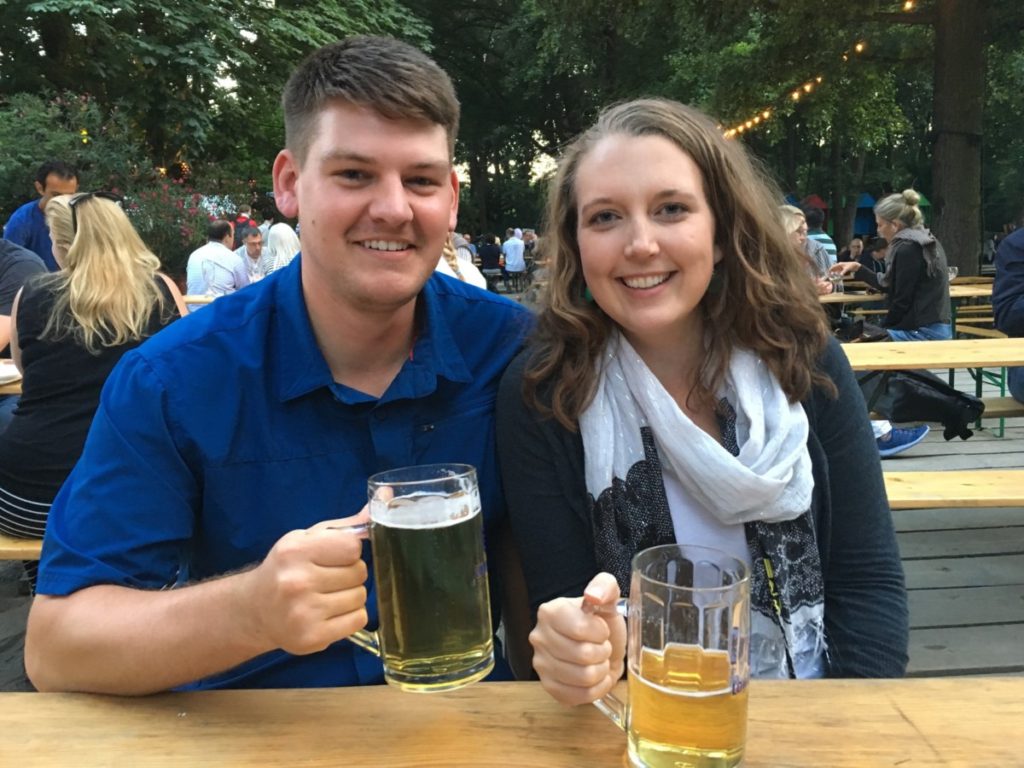 Devashish introduced us to radler beer, which is essentially beer and lemonade mixed together. Quite easy to drink a lot of these… 🙂
We talked and people watched for a while and eventually walked back to the hotel to crash.
June 29—Berlin
Wednesday we left the hotel around 8:30am to get breakfast and coffee before a full day ahead of us.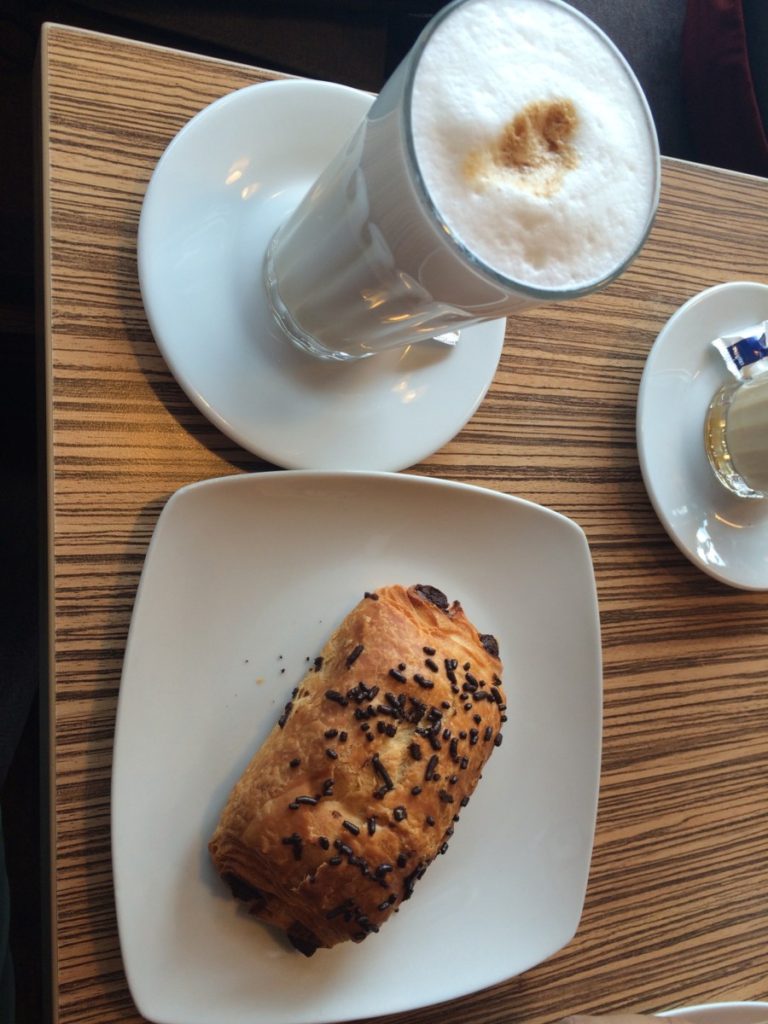 We went to Bagco and properly fueled with coffee and chocolate crossiants. When in Europe!
Then we made our way to the Holocaust Memorial. This museum, which is free, was built in 2005. For 2 euros, you can do the audio tour, which I would highly recommend.
Hearing all of the stories of different families and seeing videos and pictures of all of these people who went through such an awful, horrendous time was sobering.
To even think that something like this actually happened is horrifying. I would highly recommend doing the tour, and spend the extra 2 euros for the audio.
These concrete slabs were outside of the museum. According to Wikipedia, they were designed to produce an uneasy, confusing atmosphere, and the whole sculpture aims to represent a supposedly ordered system that has lost touch with human reason.
After spending time at the Memorial, we walked to Brandenberg gate and then to Museum Island. It was raining on and off as we walked, but eventually it cleared up.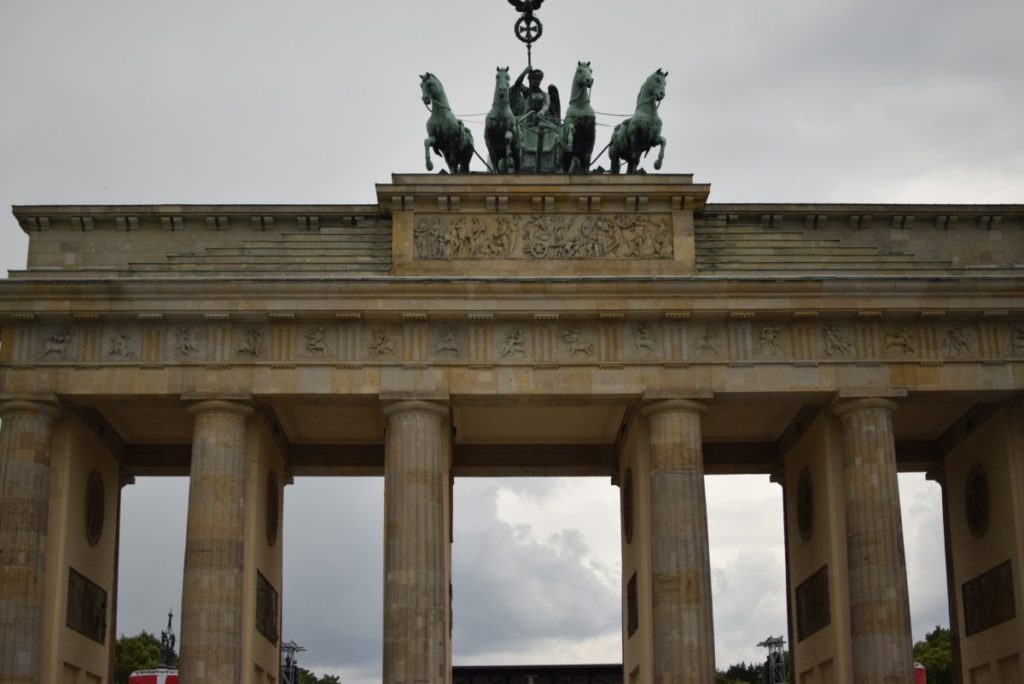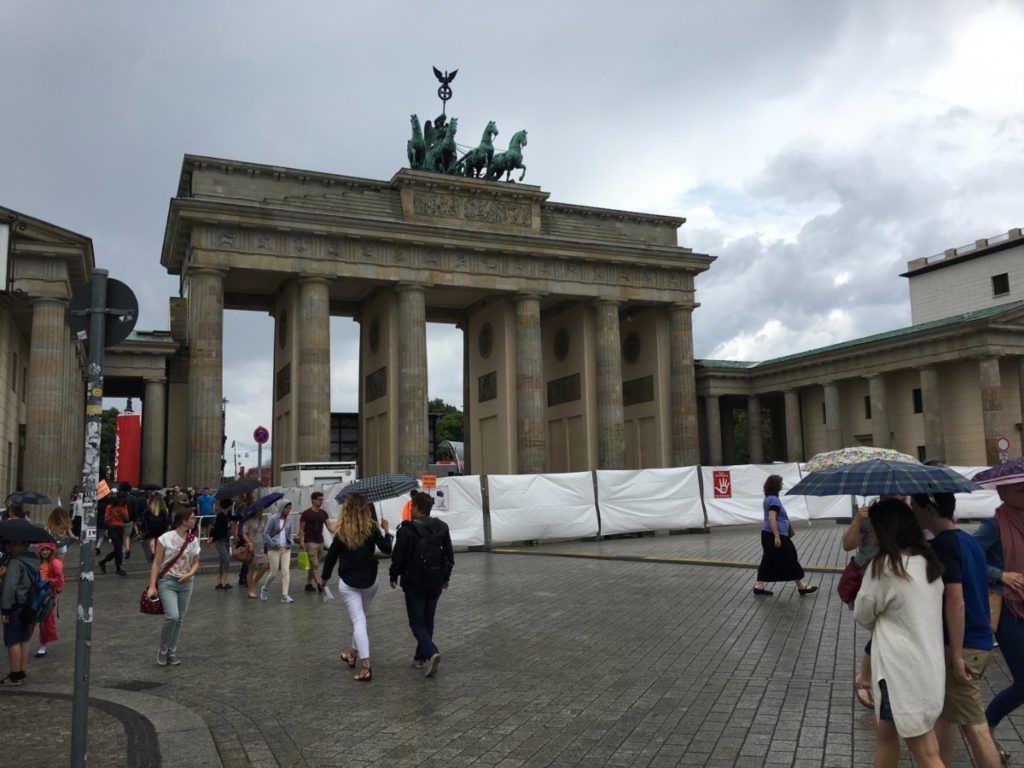 We only had time to do one of the museums (if we wanted to fit in another beer garden), so we randomly picked the Staatliche Museum.
Excerpt from their website (because an art writer, I am not):
The Staatliche Museen zu Berlin (National Museums in Berlin), housed in historical buildings, constitute a Universal Museum for the preservation, research and mediation of treasures of art and culture of the entire history of humanity. Their collections embrace the areas of European and extra- European art, archaeology and ethnology.
The museum took a few hours to walk through and once we were done I was starving. Several people told us we had to get doner kebabs while in Germany, so around 2:30 we headed out to find some!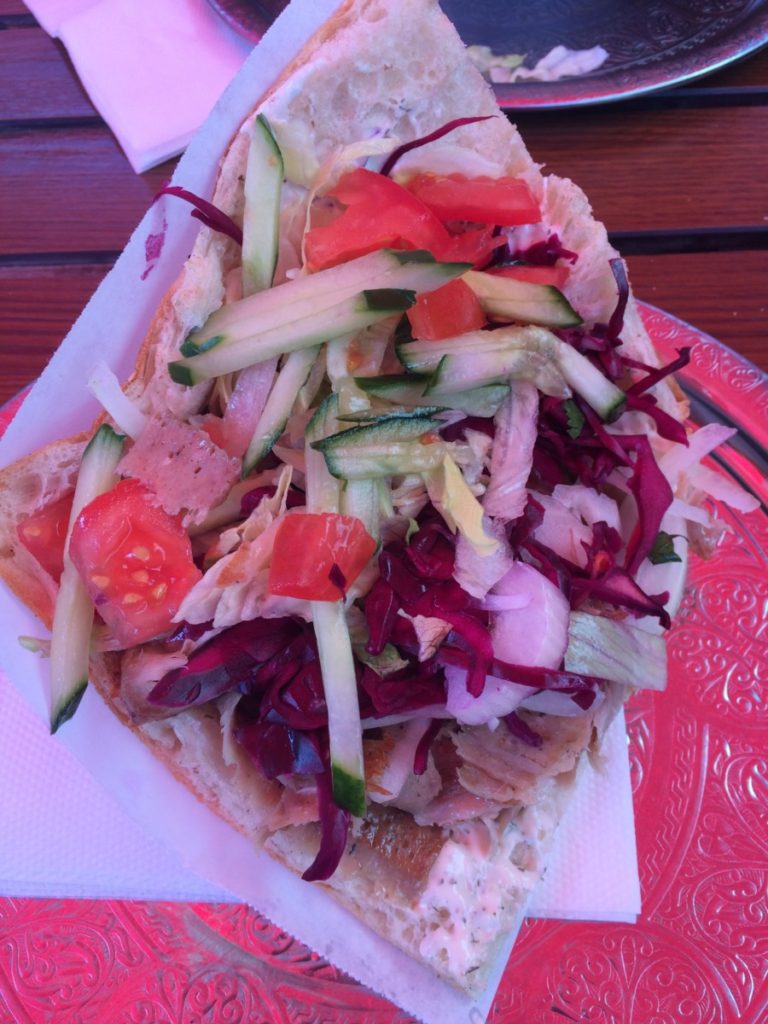 Doner kebabs are kind of like gyros, except more vegetables and a different sauce than tzaiki.
Once we were full of delicious doner kebabs, we walked around until we found another beer garden to hang out in.
I can't remember the name of the place we picked, but we stayed for several hours just drinking and talking. Europeans in general just seem to chill and hang out a lot more than Americans do. It's common for meals to last much longer, which I loved. I really want to try and incorporate more of that lifestyle here.
After hanging there for several hours, we headed back to the hotel to get ready for basically the event that led us to Berlin in the first place….the Coldplay concert!!
We didn't end up getting seats together, so we ate bratwursts outside of the venue before going in.
The convert was held at the Olympic stadium, which was cool to see. They also had people walking around with beer backpacks that could serve you beer, instead of going up to the concessions. So cool!
The concert was, of course, AMAZING. Coldplay is my favorite band and this was my second time seeing them. Ah, tears come to my eyes just thinking about how awesome it was. Haha. Such a nerd.
As you walked in, you were handed these wrist bands that would change colors with the songs and beats of music. It was so fun to see the entire stadium light up.
They played Don't Panic, which isn't one of their super popular songs, but I LOVE it so I was super happy.
One thing we learned about concerts in Europe (at least I'm assuming it's all of Europe) was that they don't do encores! Ryan and I waited a bit and then realized an encore was definitely not happening so we begrudgingly left.
The subway back to the city was insane. Trying to get 80,000 people back into Berlin with only a few trains running obviously took a while.
The subways were only going part of the way back to Berlin, so we all had to get off and walk the rest of the way. All in all, it was an awesome night!
Next stop: Switerland!