Oh hi there. If you've been living under a rock, Ryan and I took a big trip to Europe a few weeks ago. I thankfully took notes almost every day while we were there so I could come back and blog about our experience. Mainly for selfish reasons, so I can look back and read about our trips years from now, but maybe to also help you plan your own Europe trip. I'll be breaking down each city we visited and I may add in a few extra posts.
First, I'll say we took about 6 months to plan this trip, which I think was the perfect amount of time for the length of our trip.
Ryan planned nearly all of the transportation and where we were staying and I planned most of the day-to-day activities of what we do in each city. Breaking it up in this way helped ease some of the planning, so we didn't feel too overwhelmed with everything we had to do.
We knew we wanted to plan the entire trip ourselves. We aren't really into the whole guided tour thing, and it also ends up being cheaper if you plan it yourself. It does, however, take some work to plan everything out (especially figuring out what train passes to use). I'll try to convince Ryan to write a post on figuring out the best train passes. It definitely took a lot of research!
Alright…let's get into our first city…and last city! I'll cover the beginning in this post and I'll cover the end of our trip in London in a follow up post.
June 22 – Flight to London
We flew out of DFW on an 11am flight to Detroit. Yes, we moved all the way to Dallas, one of the largest cities in the U.S., and we still had to go to Detroit to get to London.
We tried to get a regular Uber to the airport but the only Uber available was an Uber select which is the most expensive. Oh well, we had places to be!
Our flight to Detroit was fine, not much to write about. We had a 3 hour layover, so we grabbed lunch and settled in for a bit. The Detroit airport (however much I do like to complain about it) does have pretty good food options. We got Mediterranean food.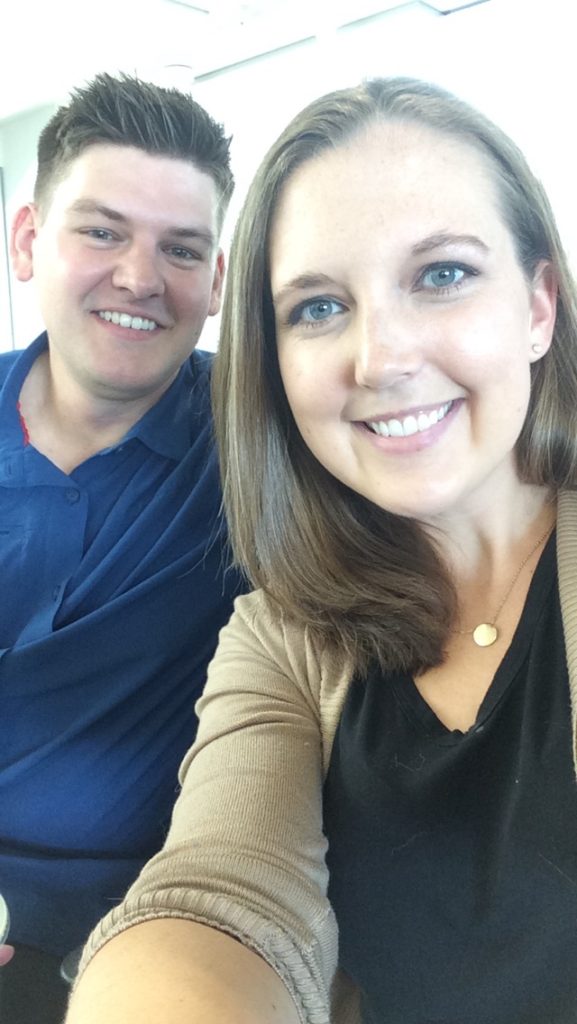 Though we purchased a Delta flight, our plane was actually Virgin Atlantic, which was nice. I've only been on one other Virgin Atlantic flight but their planes are nice!
They gave us all kinds of goodies throughout the flight: hot towels, free drinks, headphones, eye mask, toothpaste and toothbrush, socks and two meals.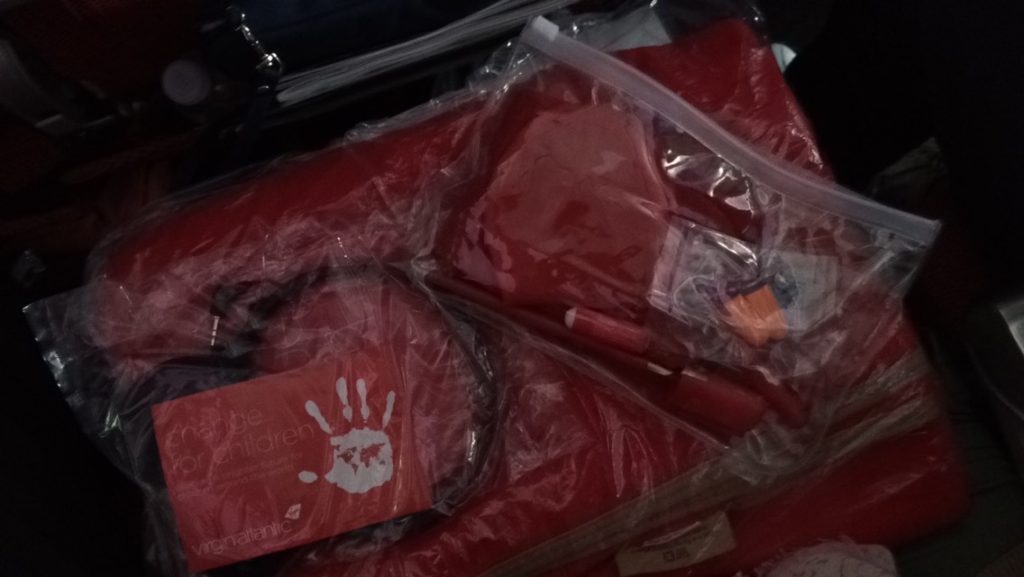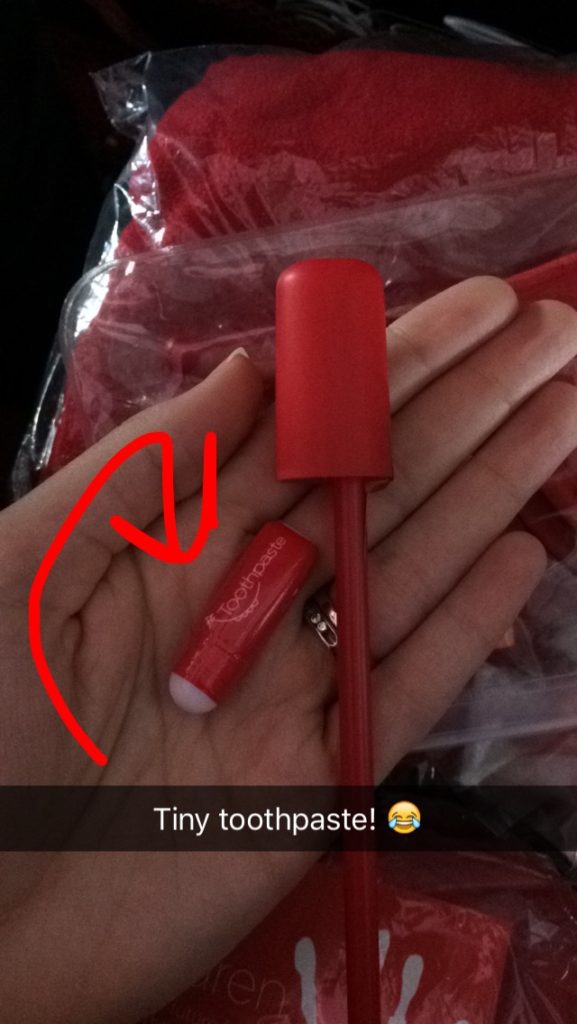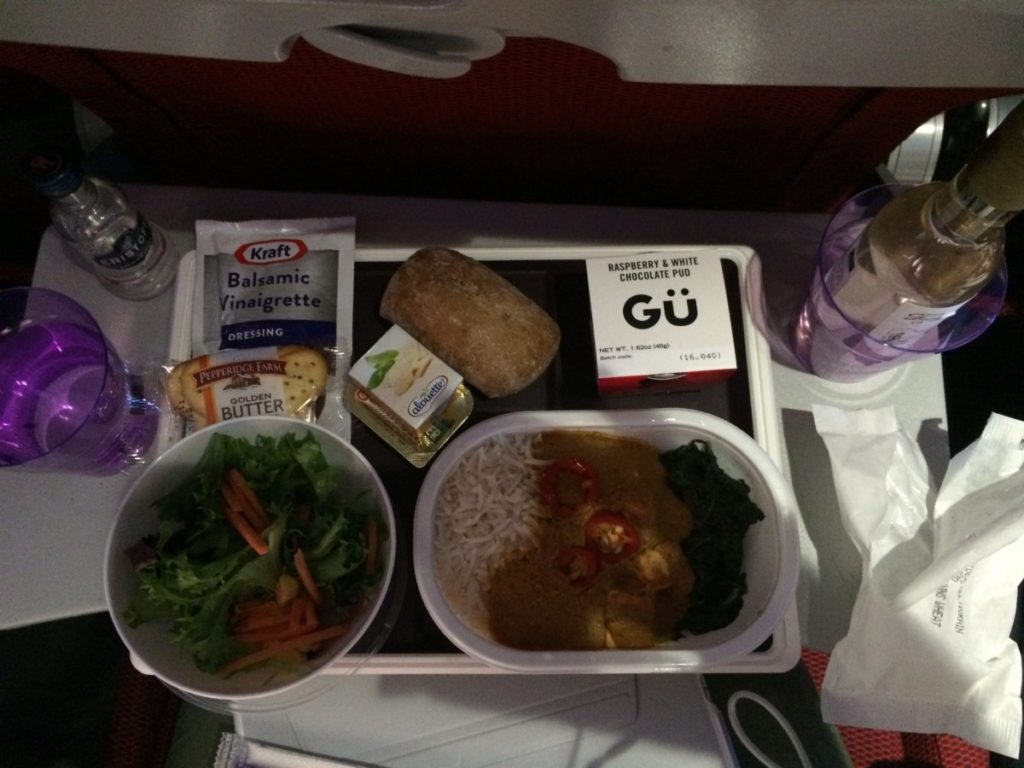 We landed at 6:30 in the morning, London time. Neither Ryan nor I slept during the flight. He watched movies and I either read or listened to podcasts. We both have a hard time sleeping on planes so we were prepared to not sleep.
Once we landed, we took the subway to Kings Cross, which was close to where our Airbnb was located.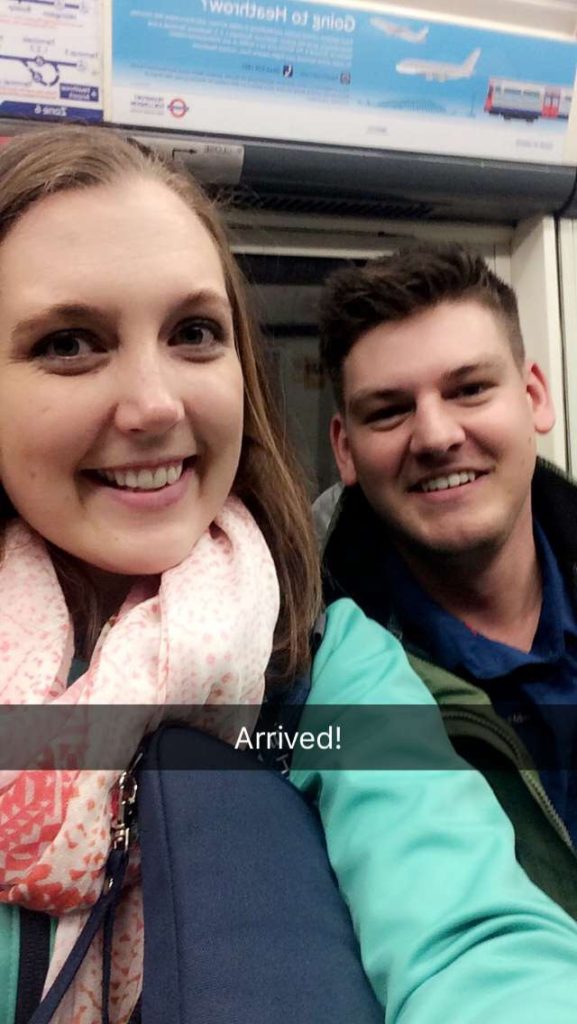 Side note: We primarily used Airbnb in all of the cities we stayed in. All of our places were exactly what we needed. We only had one hiccup with a place (details for later) so it ended up working out great. I would definitely recommend using Airbnb aboard and I'll probably try it here in the States too.
End side note.
When we arrived at our Airbnb, our host wasn't exactly ready for us considering it was like 8:30am. He knew we were coming but the previous people were still there (which we knew they would be) so we just dropped off our stuff and went out to grab coffees.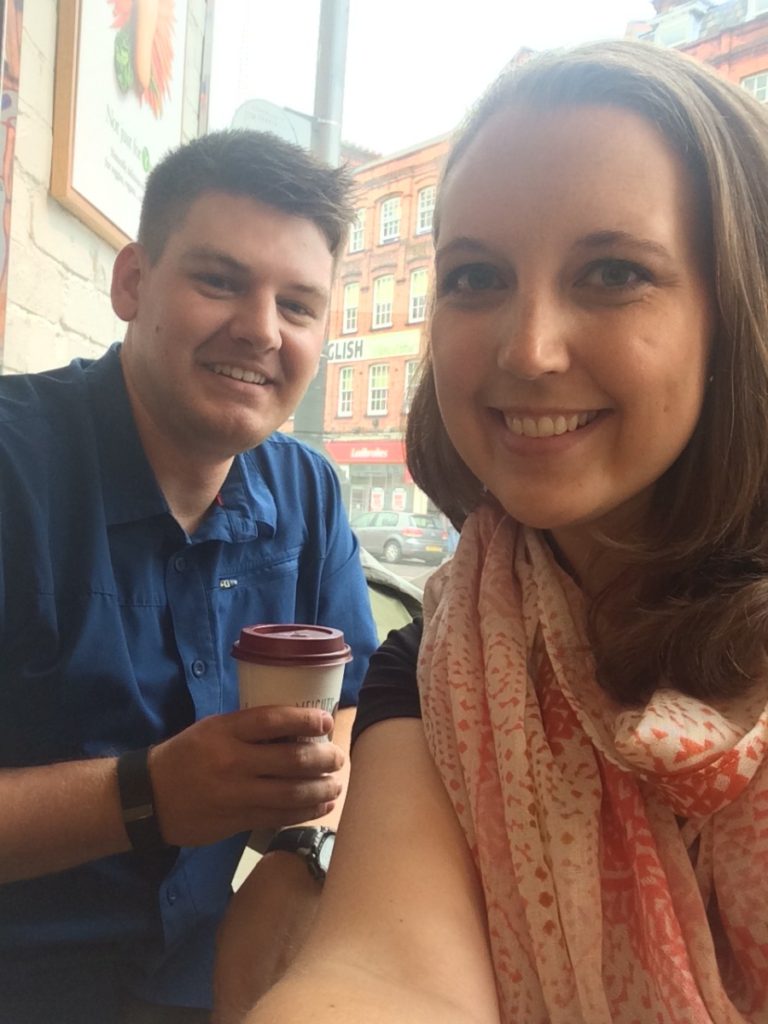 We walked around, got coffee in Pret A Manger, walked some more until we found Camden Market. Camden Market is an open air market that has a bunch of little shops that have clothing, food, jewelry, art work, etc.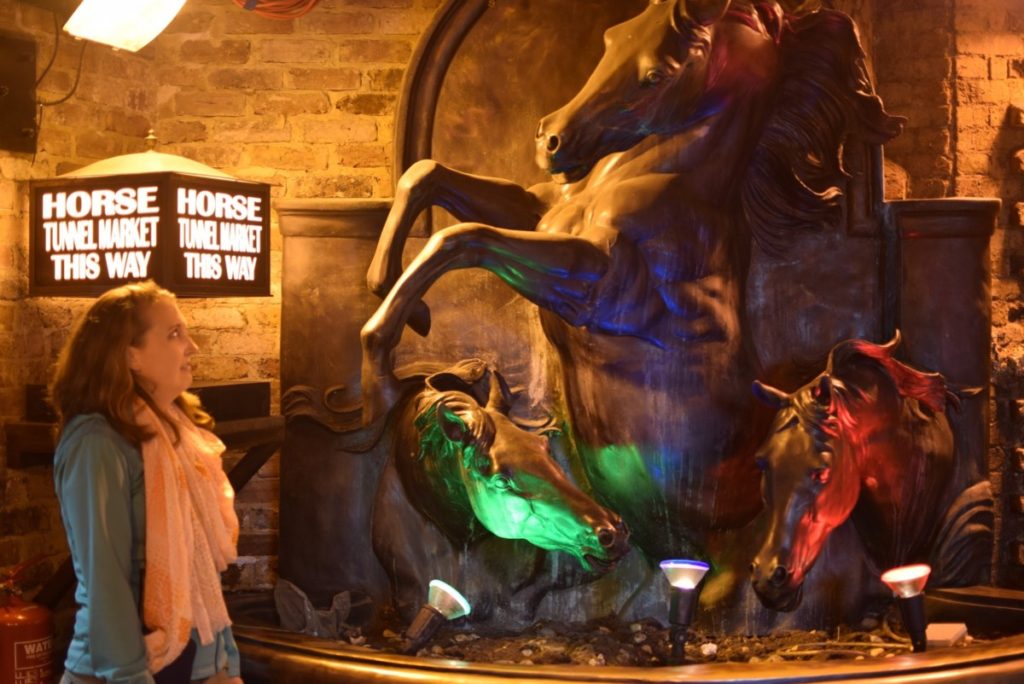 Horses. Eh.
We eventually got hungry for lunch so I got a falafel wrap and Ryan got a chicken tandoori wrap. Yeah…I like falafel considering I got it twice in 24 hours!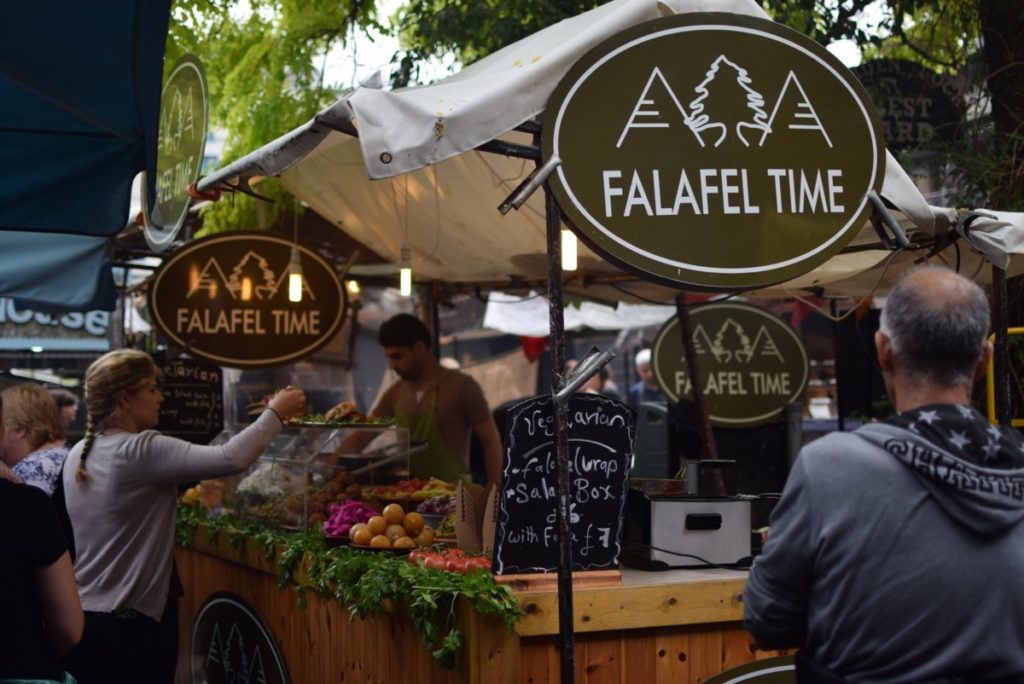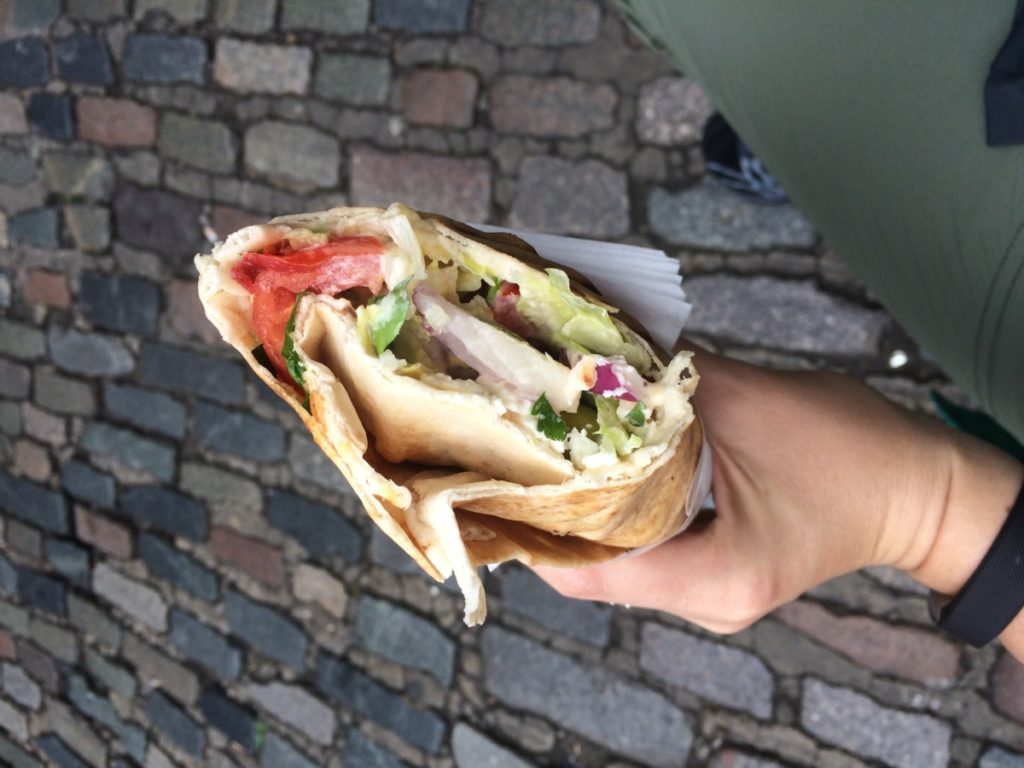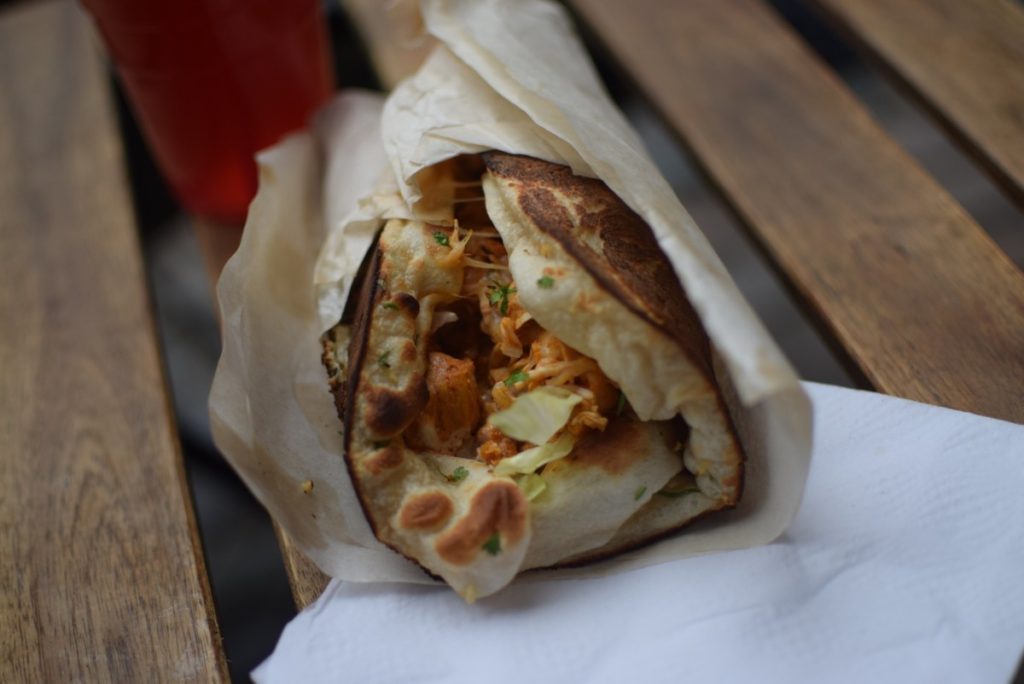 Then we walked to Parliament Hill where you are supposed to be able to see the skyline but I guess we didn't go up high enough because we couldn't see anything! It was a little disappointing but it was nice to walk around.
We were starting to feel tired (uhh yeah maybe because we were up for like 36 hours straight!) so we decided to take the tube (subway) back to the Airbnb and proceeded to crash for 3 hours.
Once we rallied we walked 10 minutes to an Indian restaurant called Dishoom. We used Yelp (add me!) and recommendations mostly for every place we ate.
We had to wait a little bit but they gave us free mini chai shots. Yum!
Once inside, we sat in the waiting area and ordered drinks.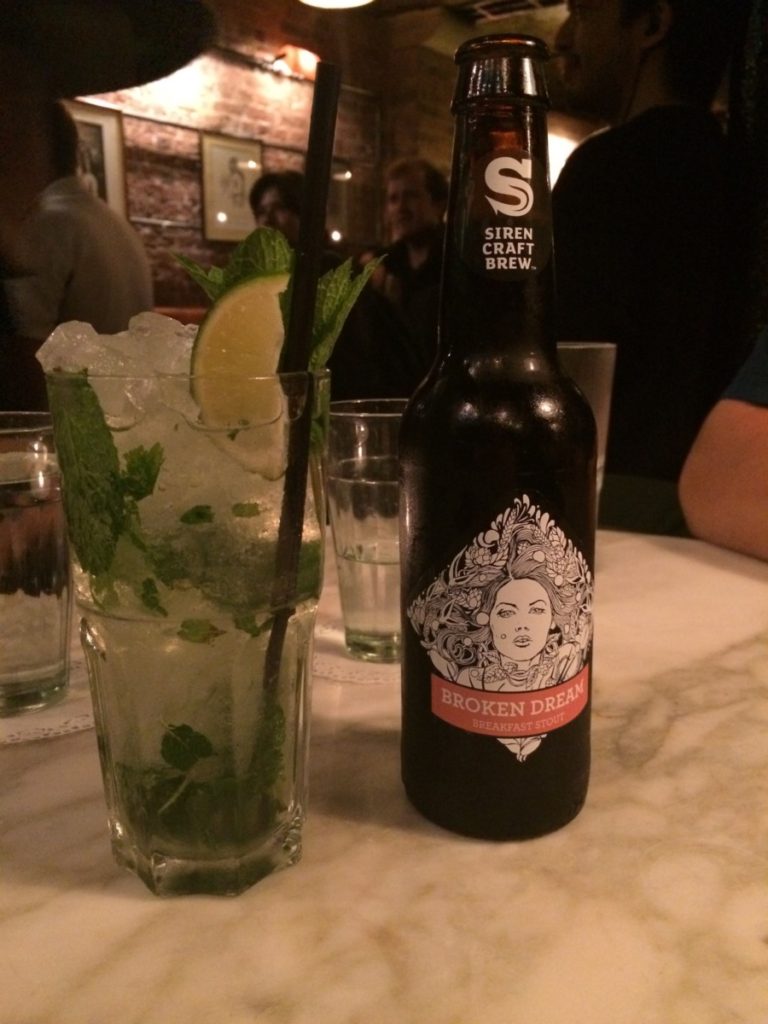 For appetizers, we ordered the Lamb Samosas and it came with three different sauces. All I remember is one of the sauces was really spicy!
For entrees, I ordered the Chicken Ruby, which was essentially an Indian curry and Ryan ordered the Lamb Boti Kabab. We agreed mine was the best, but it was very spicy and Europeans don't typically drink a lot of water so my glass was never refilled. My mouth was on fire after this!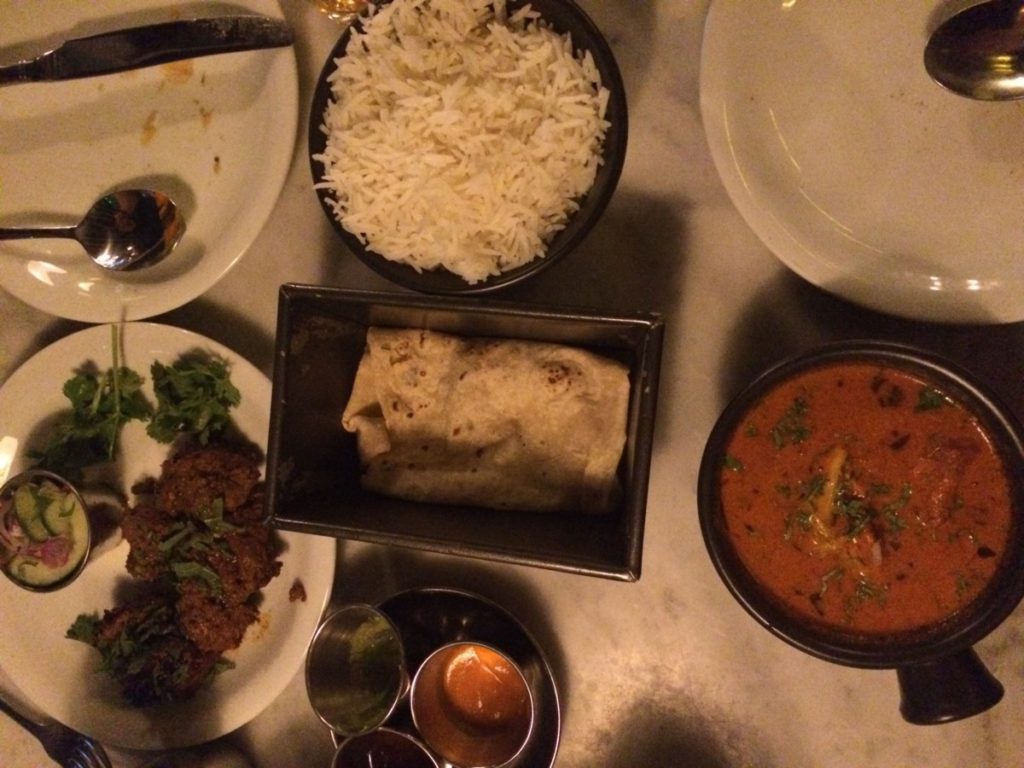 We walked back to the Airbnb after dinner and fell asleep. It was a long day and we wanted to make sure to get up somewhat early the next day.
17,000 steps
June 23–London
We woke up 5am the next day. 5 AM PEOPLE. When we first woke up, we were like "oh man we must have slept in! It's so bright out!" because the sun was fully up like it was noon. Come to find out…it was 5am. Neither of us could go back to sleep so we went with it.
Once we started scrolling through our phones, we realized Great Britain had voted to leave the EU the day before. Now I'll admit, we had only learned the day before that this vote was even happening. But everyone figured it wouldn't pass so it wasn't made as big of a deal.
But then it happened. And the world freaked out. To be honest, it didn't affect our trip that much, other than make our time in Great Britain a little cheaper, which I can't complain about.
Anyways! We had breakfast at our Airbnb, which our host provided. Not all places have food for you, it just depends on the host, but we had an offering of crossiants, yogurts, fruit, and babybel cheese. It was nice!
We left around 8am to go exploring. We made our way to Big Ben, Buckingham palace, and Westminster Abbey.
The photo below was taken outside of Westminster Abbey. This is where practically every world news station was located to report on the Brexit. It was crazy!
I would highly recommend doing a tour of Westminster Abbey. You couldn't take any photos inside, but the architecture was incredible.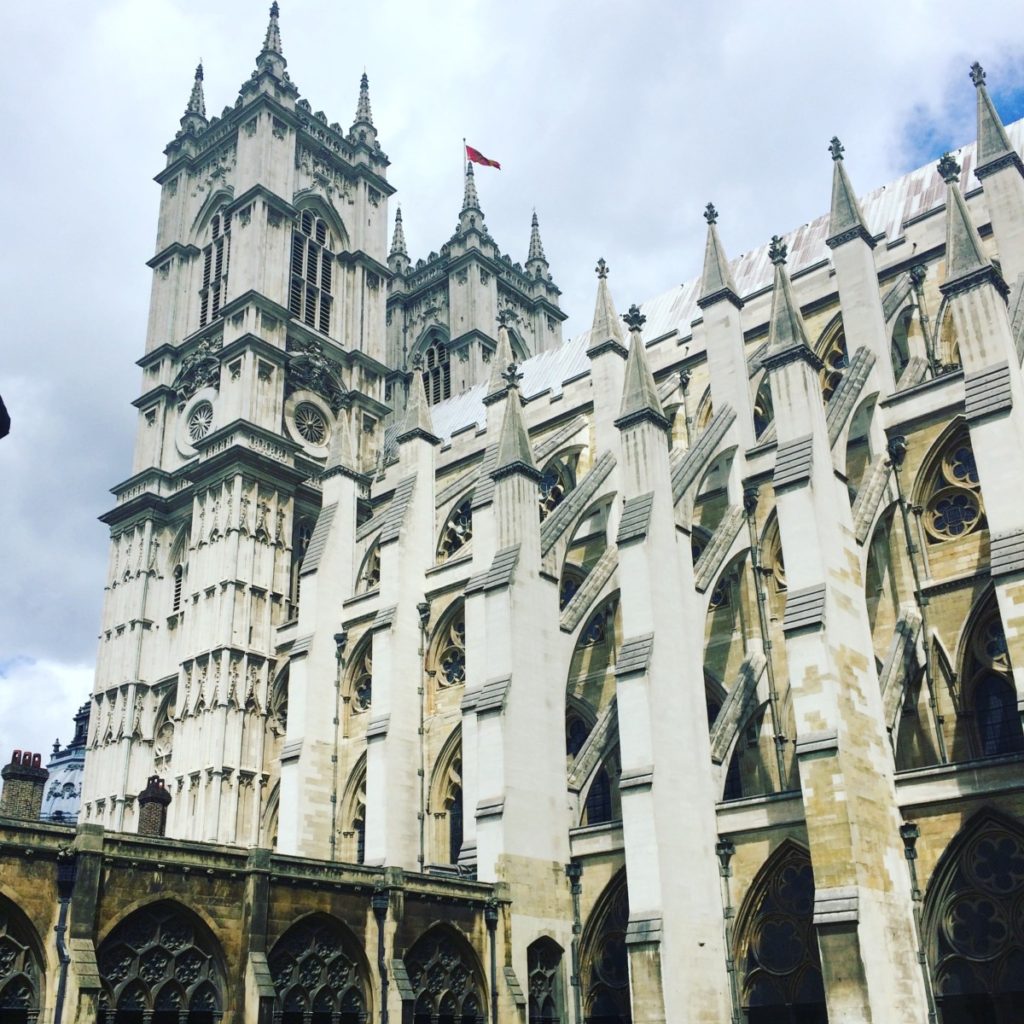 Then we walked to Parliament to see the changing of the guards. We missed most of it but man there was a lot of people there!
Then we walked to get lunch at the most amazing pizza place ever. It was called Franco Manca that had sourdough pizza crust.
I got a side salad and a pizza with zucchini and white sauce, Ryan got the chorizo pizza, which we then learned that chorizo in London actually meant pepperoni!
Again, we learned I made the right choice because my pizza was THE BEST.
After our dreamy lunch, we walked around some more and got beers at a pub.
After walking around for awhile we headed back and took naps. Once we woke up, we wanted to find an English pub to have dinner at. Fish and chips were on the brain!
We had a few drinks with our Airbnb host and his friends before going out for dinner. We discussed the Brexit and they of course asked us about Trump. Interesting conversations for sure!
His friends had recommended a place called Hook for dinner so we headed there.
It was basically my heaven because I love sauces and you could order 6 different dipping sauces (!!!). Of course I had to order all of them. Bahaha.
It was a great meal, but it was way greasy and we felt like crap after. Oh well…you only live once!
We left early the next day to catch our flight to Amsterdam. See ya in the next post!
Total steps so far: 45,055. (Yes we kept track of how many steps we took via our FitBits!)